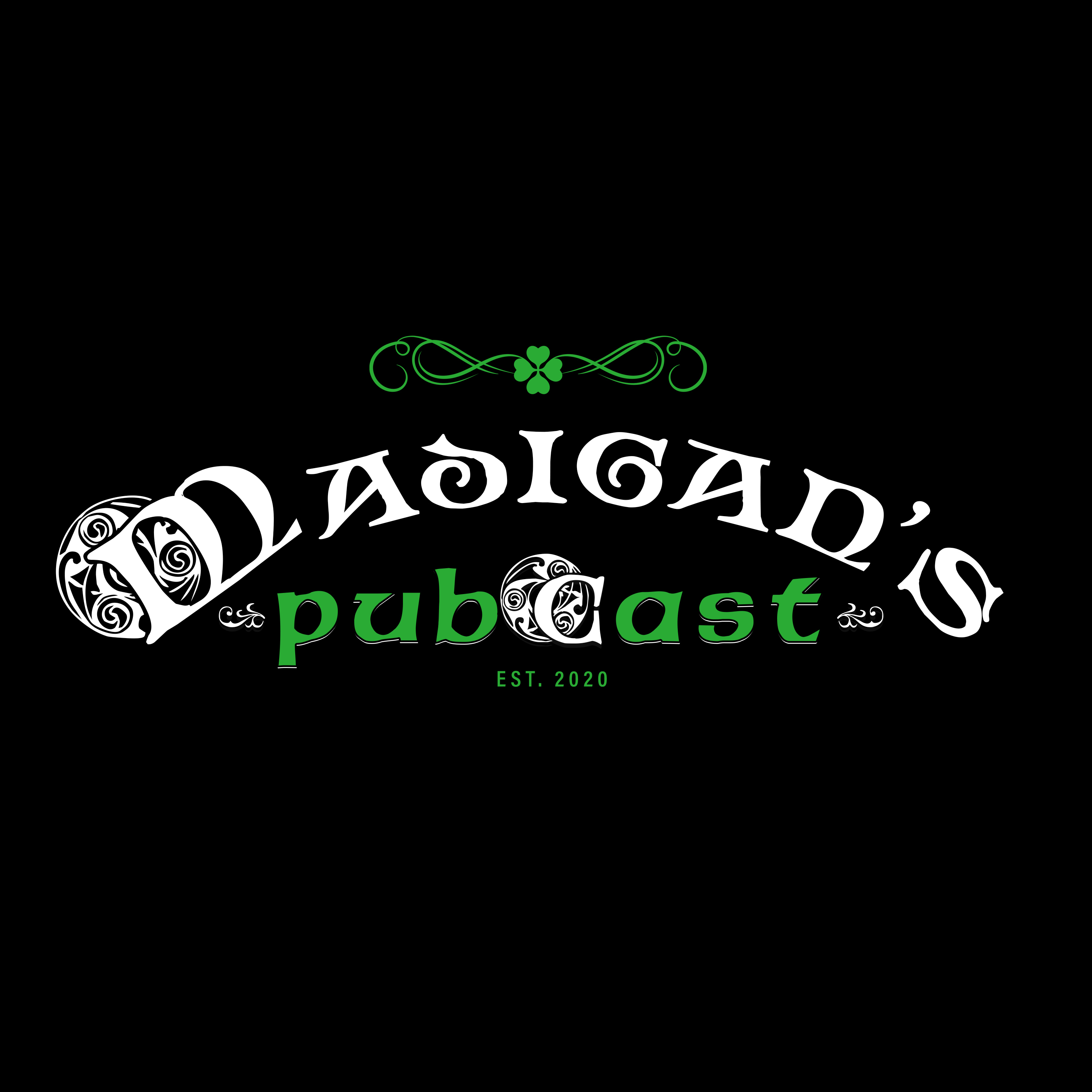 Madigan's Pubcast
---
Wed, 05 Oct 2022 09:00:00 -0000
Episode 108: Finding Nefertiti, Michigans Spirit Bear, & Celebrating McDonalds Adult Happy Meal
Kathleen opens the show drinking a Mich Ultra Seltzer to celebrate her St. Louis Cardinals upcoming World Series run, and Albert Pujols home run record. She reviews her birthday weekend in St. Louis where she attended the Cardinal game with her cousins (and made the jumbotron) and got to see Elton Johns final Goodbye Yellow Brick Road Tour.
QUEEN NEWS: Kathleen announces that Queen Stevie has a sold out Fall tour, and shares her sadness about the passing of honorary Queen Loretta Lynn.
GOOD BAD FOOD: In her quest for delicious not-so-nutritious food AND in continuing her search for the best Ranch, Kathleen samples St. Louiss Imos House Italian Salad Dressing, and Cheetos Chili & Cheese Bolitas.
UPDATES: Kathleen gives an update on Elizabeth Holmes trial and Anna Delveys extradition appeal.
HOLY SHIT THEY FOUND IT: Kathleen is amazed to read about the discovery of the mummy of Queen Nefertiti, and a new 4K webcam has caught images of the Loch Ness Monster moving in the water.
FRONT PAGE PUB NEWS: Kathleen shares articles about the sighting of an extremely rare Spirit Bear in the Upper Peninsula of Michigan, McDonalds is introducing Adult Happy Meals, artist Michael Heizer finishes his City piece, and Taco Bell is bringing back a discontinued menu item that fans of the chain can vote on.
See Privacy Policy at https://art19.com/privacy and California Privacy Notice at https://art19.com/privacy#do-not-sell-my-info.
---
Tue, 02 Aug 2022 09:00:00 -0000
Episode 99: Confirming the
Loch Ness

Monster, Suing Skittles, & The Invention of Buffalo Wings
Kathleen opens the show drinking a Mich Ultra Citrus Seltzer, celebrating Episode 99 of the Pubcast talking about German pop singer Nena and her iconic song 99 Red Balloons. She then moves on to share details of her fun night in Nashville watching her fellow Last Comic Standing alum Corey Holcomb perform.
GOOD BAD FOOD: In her quest for new and delicious not-so-nutritious junk food AND in continuing her search for the best Ranch, Kathleen samples Original Bitchin Sauce, Legal Sea Foods Malt Vinegar Aioli from Stonewall Kitchen, and Snyders Hot Buffalo Pretzels.
THE QUEENS COURT: Kathleen gives updates on the Queens: Queen Stevie Nicks has released her Fall 2022 Tour dates, and Queen Tanya is releasing her new documentary The Return of Tanya Tucker.
UPDATES: Kathleen gives updates on Zuckerbergs distain of his unproductive workers & JetBlue finally buys Spirit Airlines.
HOLY SHIT THEY FOUND IT: Kathleen is amazed to read about the discovery of the massive 170-carat pink Lulo Rose diamond in Angola, Mormon founder Joseph Smiths photo is discovered, and a 100,000 year old dinosaur fossil is discovered outside of a restaurant in China.
FRONT PAGE PUB NEWS: Kathleen shares articles on a 1,300 lb Norwegian walrus sinking harbor boats, KFC tests new chicken nuggets, a man loses $181M in Bitcoin in a dumpster, social media explodes when the Choco Taco is discontinued, the Loch Ness Monsters existence is validated when a fossil is found in Morocco, a man sues Skittles, the record heat wave of 1934, and Teressa Belissimos invention of Buffalo Wings.
WHAT TO WATCH THIS WEEK: Kathleen recommends watching The First Lady on Showtime, and The Most Hated Man on the Internet on Netflix.
SEE KATHLEEN LIVE: See Kathleen live on her Do You Have Any Ranch? Tour. Tickets available at kathleenmadigan.com/tour
See Privacy Policy at https://art19.com/privacy and California Privacy Notice at https://art19.com/privacy#do-not-sell-my-info.
---
Tue, 05 Oct 2021 15:15:25 -0000
Episode 59: The
Loch Ness

Monster Surfaces, LuLaRoes Scandal, & Passive Aggressive Corporate Email
Kathleen opens the show drinking a Briney Mary bloody Mary from the Pittsburgh Pickle Company, which she looks forward to drinking every time shes in Pittsburgh.
TERMITE SHOUTOUTS: Kathleen gives thanks to the Termites who leave notes at shows and send mail to her PO Box. She begins by thanking Termites Jennifer and Steve, who made her laugh out loud in anticipation of putting on her new Vodka Cranberry, Please face mask when she boards an airplane. Termite April from Wyoming sent in a very cool Ranch dressing Christmas tree ornament, and Kentucky Termite Carolyn sent an awesome Time & Oak whiskey aging stick, which Kathleen cant wait to try with her brother Patrick. Finally, Termite Diane (from south of Boston) sent a very touching note which makes Mama T tear up, along with a gold ribbon representing support for Pediatric Cancer in honor of her granddaughter.
UPDATE ON KATHLEENS QUEENS COURT: Kathleen provides an update on the Queens, reporting that the Court has been quiet. She asks the Termites to vote for a new queen to try to shake up some new activity. What say you, Termites?
GOOD BAD FOOD: In her quest for new and delicious not-so-nutritious junk food AND in continuing her search for the best Ranch, Kathleen samples Jalapeno Popper Goldfish, which she doesnt like as much as original Goldfish crackers. She moves on to taste Marzetti Buttermilk Romano Ranch, which she finds to be VERY tangy but she likes the flavor. Kathleen finishes her tasting session with a dessert: Apple Cider Donut Oreos which she absolutely hates, comparing the taste to eating perfume. She then shares with listeners that growing up in the Midwest her dad preferred Hydrox cookies to Oreos, and now she misses the flavor of those cookies over any Oreo.
NEW EXPLOSIVE BRITNEY SPEARS DOCUMENTARY: Kathleen continues down her months-long rabbit hole following the conservatorship of Britney Spears and the #FreeBritney movement. She reads details behind a new documentary released by FX and Hulu entitled Controlling Britney Spears, an unannounced follow-up to Framing Britney Spears covered in an earlier episode of the Pubcast. In it, several former friends and colleagues of Spearss came forward to offer new glimpses into the heretofore well-concealed world of her conservatorship.
LULAROES CORPORATE SCANDALS: Kathleen is fascinated as she reads an article about multilevel marketing company LuLaRoe, and goes on to describe to listeners her thoughts after watching LuLaRich, Amazons new docuseries about the creation of the company and their fraud that was eventually settled through the legal system. The brand succeeded by targeting a group of stay-at-home moms seeking financial security and extra income, and for a few years, LuLaRoe was quite good at spreading empowerment through selling printed clothes. The company generated $2.3 billion in sales in 2017. But then scandals started rocking the business, including allegations of moldy, low-quality products, copyright infringement, and lawsuits calling LuLaRoe a pyramid scheme. Kathleen feels terribly sorry for the victims who suffered after being involved in this scam, but also states that she has yet to see something overly successful come from buying into a business whose primary business mantra advertises that you can Work From Home In Your Pajamas.
THERANOS VICTIM TESTIMONIALS: In her reporting from the Elizabeth Holmes Theranos trial currently taking place in California, Kathleen provides an update to Termites regarding victims who received incorrect test results from the Theranos technology which resulted in emotional trauma.
TERM LIMITS AND GRASSLEY VS THURMOND: Kathleen has a bit in her act where she makes a pitch for term limits for politicians, and is appalled to read an article stating that Sen. Chuck Grassley recently announced that he will run for reelection in 2022 a decision Republicans believe will give them their best chance to hold onto the coveted Senate seat. Grassley, 88, released the highly anticipated news in characteristically understated fashion, posting the news to Twitter with little additional fanfare.
COMEDIANS INTERPRETATION OF CORPORATE EMAILS: Kathleen laughs out loud reading an article on the underlying meaning behind buttoned-up corporate email language, and outlining how successful people communicate. She translates each email sample into comic speak, or how comedians (without an HR department) would address similar situations via email.
MICHAEL FLYNNS LATEST CONSPIRACY THEORY: Kathleen is bewildered when she reads an article where former Trump National Security Advisor Michael Flynn pushed a theory that COVID-19 vaccines are being snuck into salad dressing being sold in US supermarkets. Flynn was speaking this week to Clay Clark, the host of the conservative podcast "The Thrivetime Show. Kathleens comments cant necessarily be put into print
OSAGE INDIAN PICTURE CAVE SOLD IN MISSOURI: Kathleen reads an article from her home state of Missouri where the infamous Osage Indian Picture Cave was sold in September 2021 for over $2 million. More than 1,000 years ago, Indigenous people journeyed into a dark cave on the land now called Missouri and painted nearly 300 detailed images on its walls. The cave was a sacred space, where tribes performed ceremonies, made sense of the universe, and buried their dead. A millennium later, the paintings contained within it continue to offer clues about how those civilizations lived and what they believed. And for the Osage Nation, whose ancestors created much of the artwork in the cave, the sale came as a huge blow as it will prohibit access to their ancestral grounds.
DISCOVERY OF OLDEST HUMAN FOOTPRINTS IN NORTH AMERICA: Kathleen reads an article announcing that 23,000-year-old footprints found in New Mexico recently could shed light on when humans arrived on the continent. Archaeological evidence, including spearheads used to kill mammoths, has long suggested a 13,500-year-old settlement was considered the continents first civilization, and the forerunner of groups that became known as Native Americans.
SPOTTING THE Loch Ness MONSTER: Kathleen is a firm believer in the existence of the Loch Ness Monster and is thrilled to read an article stating that the Loch Ness Monster has been spotted by recent drone footage taken by a British outdoorsman paddling through Scotlands Loch Ness for a long-distance charity canoe trip. Watch the footage and state your opinions, Termites
WHAT TO WATCH THIS WEEK: Kathleen recommends watching the Framing Britney Spears documentary on Hulu, and LuLaRich on Amazon Prime.
See Privacy Policy at https://art19.com/privacy and California Privacy Notice at https://art19.com/privacy#do-not-sell-my-info.
---